Welcome to the Harlestone Primary School website. We are a small successful rural school set in the beautiful heart of Northamptonshire and near to the historic village of Althorp.
We are focused on helping everyone in our school be the best they can be.
If you are already linked to our school, we hope you will find this website informative and helpful in supporting your children.
If you are new to Harlestone, please browse our site to get a flavour of our school and the Althorp Partnership.
We would love to show you around our fantastic school. For a visit, please contact the School Business Manager or Headteacher using the link at the bottom of the page.

A gallery of Class 2's version of The Scream by Scandinavian artist Edvard Munch.
The whole school celebrated Mother's Day on Friday, by holding a coffee morning for their special person.

There were songs, poems and dances performed on stage at the Harlestone Village Institute, followed by a challenge for the guests to see who could make the best "mummy" and "Walk like an Egyptian"!
Last week, as part of their Nordic Adventure topic, Class 2 were lucky enough to visit Woodland View Primary School to use their immersive room to experience a sleigh ride through the Scandinavian landscape.

Thursday afternoon saw Class 2 attend a Cross Country event hosted by Bugbrooke Campion School at Bugbrooke Rugby Club. All the children took part in running a circuit of the playing field with our Year 5 Teigan taking 3rd place in the Year 5/6 race. Well done Teigan!!

Obviously our marathon running has paid off as every child showed grit and determination and finished the race!
On Thursday 16th March 2017, the whole school joined in with the Comic Relief Gallopathon. The children brought in donations, and in the afternoon sunshine, all the Gallopers took their places on the school field ready for the Gallop! There were some amazing galloping styles and everyone had a lot of fun.
Nordic Adventures in Class 2
Class 2 began their new topic "Nordic Adventures" this term by having a visit from a real-life Viking! They will be finding out all about the countries that make up Scandinavia, including their history and geographical features.

"I thought I couldn't do it, but I just had to believe in myself. It was really good and I really enjoyed it." Sophie, Year 6 - "I had a really fun day and I tried my hardest." Amelia, Year 4 - "I enjoyed the floor routine because I thought I'd done the moves in the right sequence. I liked the vault because I did a really good second one." Nya, Year 3 - "It was a really exciting day becuse we all tried our hardest and made Mrs Butcher proud." Megan, Year 5 - "Even though we didn't come in the top 3, we still tried our hardest and did our best." Georgia, Year 4 - "This is the first time I've ever done it and it was a great experience." Bethany, Year 4
On Monday 6th February, 8 girls from Class 2 took part in the Northamptonshire School Games Gymnastics Competition 2017.

Two teams (4 girls from years 3 & 4, 4 girls from years 5 & 6) went along with their coach, Mrs Butcher, to Danes Camp Leisure Centre to compete against schools from across the county.
There were three disciplines - Floor, Body Management and Vault. The girls had been training really hard, at lunchtimes and once a week after school and were nervous but excited on the day.
They all performed brilliantly, doing their very best, and Harlestone is extremely proud of them.
Well done girls!
Eight lucky children from Class 2 have been enjoying golf lessons at Harlestone Golf Club. They have been practising their swing, and learning how to putt. Next week - chipping! More pictures to follow as they progress.

In front of a full house, Class 2 presented their Nativity play 'Straw & Order' at the Harlestone Village Institute shortly before Christmas. They performed magnificently and a great time was had by cast and audience alike.

Class 1 performed 'Hey Ewe!', the story of the nativity told from the Sheep's point of view, also with a packed audience. They all remembered their words and sang beautifully.
For Children In Need, the children brought in their loose change to cover a picture of Pudsey the Bear!

A grand total of £51.85 was raised!
Last week several children received their Friendship wristbands from the School Council, for showing they can be a good friend to others.

Congratulations to:-
Oliver C for tidying the autumn leaves and recruiting helpers.
Oliver G for looking after an upset child.
Casey for taking an upset child to their buddy.
Keane for helping make the playground safe for others.
Sean for playing nicely with the reception children.
Sophie for helping make the activity table ready for the next children.
Jake (photo to follow!) for hugging a child that had fallen over.
This week the children were challenged to make a home in the woods for some 'woodland animals' using things they could find lying around. As you can see, they have some great imaginations and excellent building skills!

Supporting the Royal British Legion
Several children from across the Partnership volunteered to help sell poppies at our local Sainsburys in support of the Royal British Legion.

On Friday 7th October we held an open Coffee Morning in aid of the Angel Foundation, a charity set up by local resident Mr Dave Masters, in memory of his late wife, Angela.
Thanks to our extremely generous parents, we had an amazing array of delicious cakes, many homemade. The children were excellent hosts, showing visitors to their seats, taking orders for teas and coffees and serving the mouthwatering cakes.
A raffle was also held, the prize being a hamper of 'green goodies', green being the colour of the charity.
A huge THANK YOU to everyone who came, made a donation and helped towards making this such a successful event.
We were able to raise a whopping £229.03.
On Monday 3rd October, Mrs Dunn accompanied two pupils, Sophie and Teigan, to BBC Radio Northampton for an interview live on air! They had been asked appear on the John Griff show due to the schools successful participation in the Kids Marathon last year. The girls were brilliant, speaking confidently and clearly. They had a lovely time at the Radio station, being made very welcome and the afternoon was finished off with a trip to Costa, courtesy of Mrs Dunn!
Recently the children were able to try their hand at woodworking. Grandparent Colin Kilshaw came in to talk to the children about his hobby and different types of wood and their uses and also to teach them some basic woodworking skills. They all had a go at sanding, drilling, nailing and sawing and each child made themselves a wooden plaque to decorate and take home.
Harlestone takes part in the 20 Million Steps Challenge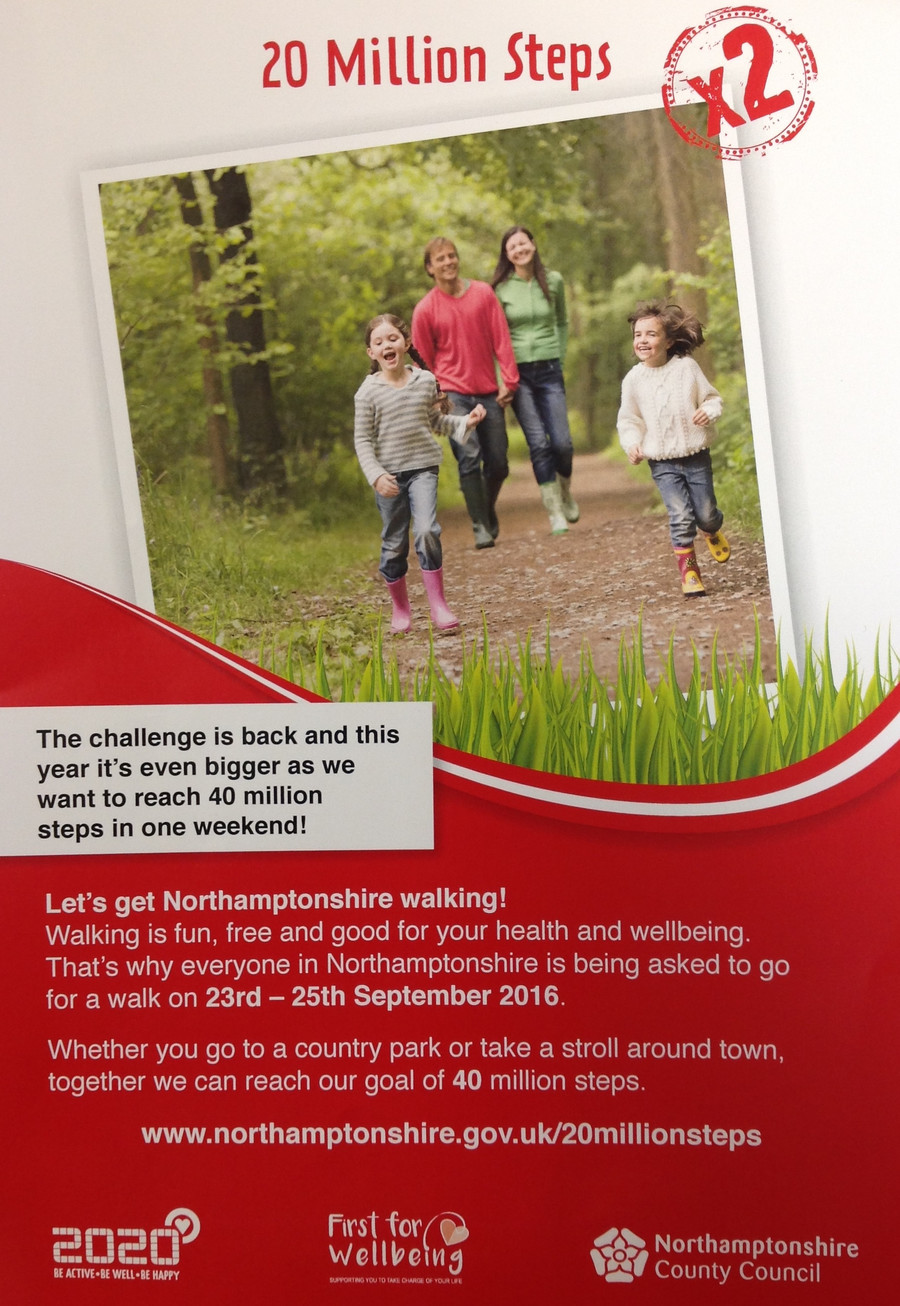 The whole school recently took part in the 20 Million Steps Challenge. Four children were lucky enough to go to Salcey Forest to take part in an exciting orienteering challenge. They were given a map and pedometer then had to find clues and answer questions to complete the challenge. Great fun was had by us all along the way, including jumping on the wooden walkway to make it sway! Special mention to Oliver Parkhill, who, despite his fear of heights, made it all the way to the top of the Treetop Walk. Well done Oliver!
The children were so enthusiastic, we actually jogged most of the course!!
Meanwhile, back at school, the rest of the children did their bit towards the 20 Million by wearing pedometers and walking around the school field several times. Altogether, the school walked a grand total of 258,335 steps!!
Class One have been making bird feeders for the outside area, to help them find out what birds are living in the local area.
Reception mixed lard, flour, oats and birdseed together and squished it into orange halves. Year Two threaded plain popcorn onto garden wire to make nibble rings. They will be bird spotting in the next few weeks to see which birds are the most common.
Year 6's go bowling in style!
HARLESTONE RETURN HOME CHAMPIONS!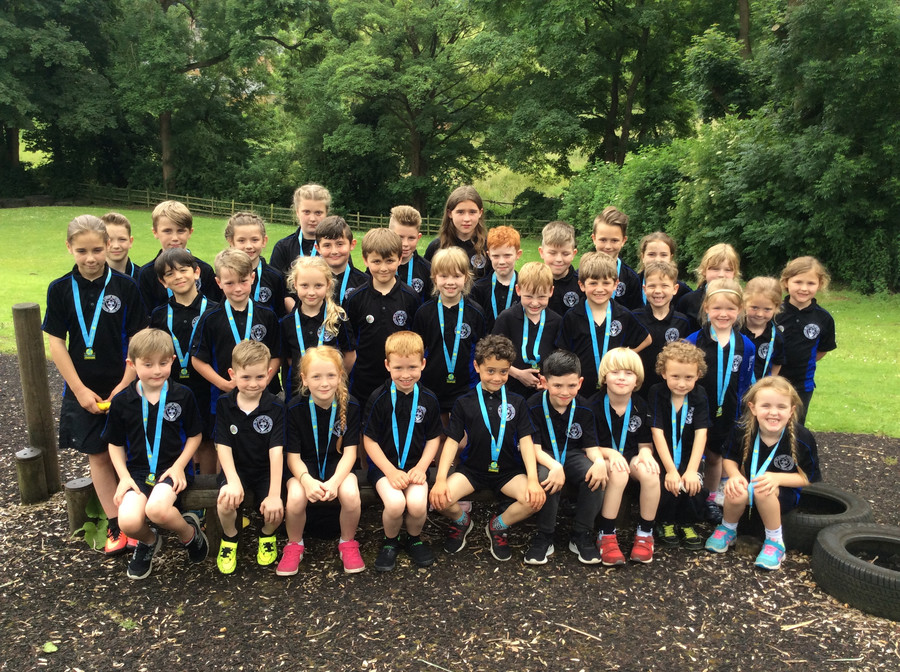 The children at Harlestone have been very active over the last term, running laps of the playground and field to complete their very own marathon. Every child has taken part and all have thoroughly enjoyed the challenge. Their hard work and effort paid off today when they all attended the Running Festival in Leamington Spa, and each child who had completed their marathon received a goody bag and a medal. The success continued when it was announced that Harlestone had won the Trophy for the furthest distance covered by each child!
Everyone had a fantastic day, running laps of the track, enjoying a picnic lunch and returning home victorious!
Below, the children told us what they thought of their day.
"The Kid's Marathon is the best and it really challenged me." Casey, Year 4 - "I loved running" Liam, Year 1 - "We're a small school, but we won!" Tommy, Year 4 - "I wish I could do this every day." Sydney, Year 1 - "I was scared, but I had a go." Jake, Year 4 - "It was the best day of my life because I got a medal and a goody bag." Ashton, Year 2 - "It was amazing to win for once." Billie, year 5 - "I liked getting my medal. I was nervous because they said Lewis twice and they meant me. I didn't want a snack because I wanted to get as many elastic bands as I could." Louis, Year 1 - "It was scary, but I had a try." Amelia, Year 3 - "I had a great day and we became champions." Sophie, Year 5 - "I didn't win anything but it was still very fun." Niamh, Year 1 - "No matter how tired you are, just keep on going and you will be a winner." Georgina, Year 6 - "I enjoyed running today, it was like being in the Olympics." Lewis, Year 4 - "We're a small school, but we won the biggest trophy." Olivia, Year 5 - "It was the best day ever. We are the champions!" Teigan, Year 4 - "Great things come in small packages." Tom, Year 5 - "We're the new Leicester!" Lennon, Year 4
To celebrate Father's Day, Harlestone children invited their Dads along to enjoy a mug of tea and a bacon butty!
Invites were sent out in the form of a cardboard tie which the children decorated and lollipops
were awarded to all Dads who had "followed instructions" to wear them on the day!
Dads were also tasked with creating a Superhero costume for their child using only 5 sheets of newspaper and some tape. They rose to the challenge superbly and the resulting costumes were amazingly imaginative and innovative.
Clearly some of them are in the wrong job!
TEDDY BEAR'S PICNIC FOR OUR NEW RECEPTION
On the 16th of June, our new intake children came to school with their mum or dad for a teddy bear's picnic.
The weather stayed dry despite a few grey clouds overhead. The children had a lovely time hunting for bears
with their name on. Their fun packed afternoon also included stories, songs, snacks and other bear related activities.
The staff can't wait to see the children again very soon for their taster mornings.
Several children from Class 2 were invited to Northampton Golf Club for a series of golfing lessons
where they learned to drive, pitch and putt.
They ended their experience with a mini tournament and presentation
which their parents and the rest of the class came to watch.
Harlestone's longest serving member of staff, Mrs Field recently celebrated 25 years as a Teaching Assistant at the school. The children celebrated her anniversary at an assembly of songs and a presentation of gifts,
which was attended by parents and members of Mrs Field's family.
As part of their current Brazil topic, Class 2 made some amazing carnival costumes
and piñatas to enjoy at their "Rio Carnival" day.
There was colourful carnival food, a chocolate fountain and the children made "mocktails".
They then had great fun smashing their piñatas to get the sweets!
The Friends of Harlestone School held a street party to celebrate the Queen's Official 90th Birthday.
Children, parents and members of the community enjoyed a sunny afternoon of tea and cakes,
with activities for the children and a Queen themed quiz for the adults.